$ Why restore? couldn't have said it better myself. READ THIS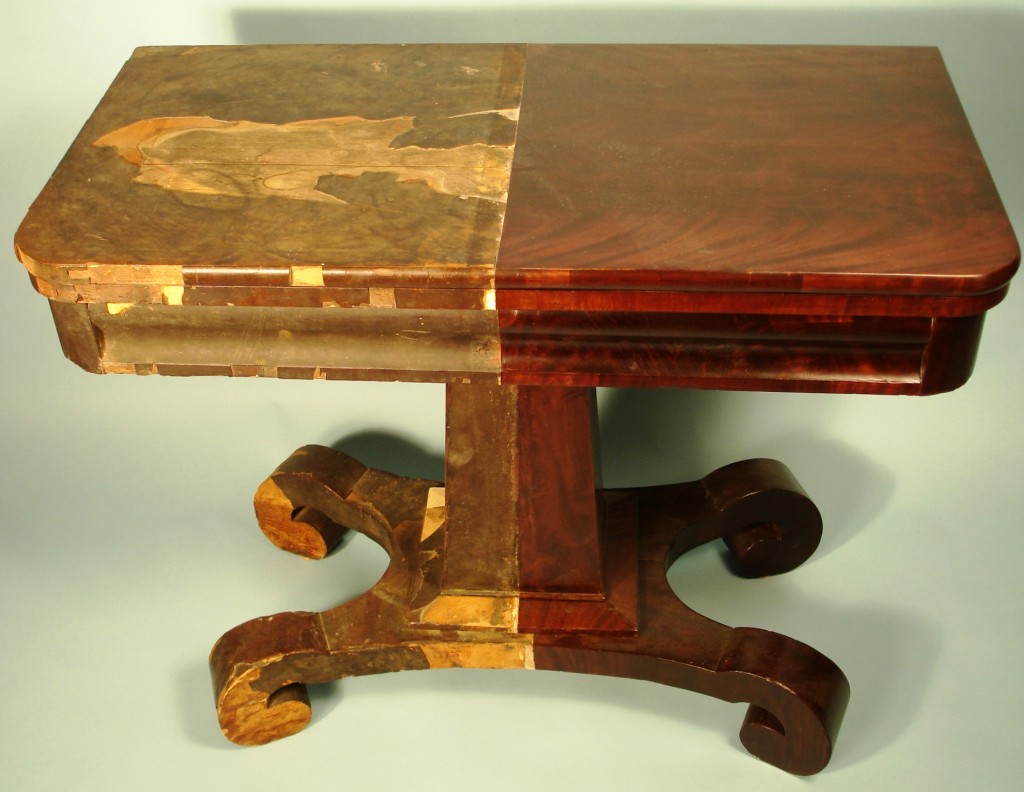 I came across this article, a very nice description of the quandry many customers face with when purchasing an anitque.
Since I can say, honestly, that I agree 100% with the article, I'll simply point you to it and nod in agreement.
I hope you find it of some use.
From Worthpoint author: Wayne Jordan (03/20/13)

Refinish Your Antique Furniture? It's a Question of Value
And, here, in this conclusion by Mr Jordan is the credo we live by at Green Spot Antiques in our Restoration department:
"Well-executed means that the restorer has an understanding of the item's period and the materials and techniques that were use at the time and the skills and experience to execute the repairs. Hippocrates' admonition "first, do no harm" must always stay in the mind of the restorer in choosing materials and techniques. That means no modern glues, no modern fasteners and no modern finishes. Using modern tools is perfectly fine, provided that the results are consistent with original"
When you bring an item here, that is how we do it. Simple, well-executed restorations from 1979. Call today to get started in getting your heirloom quality furniture back into shape.
When possible we use the following materials only:
antique woods of the same period and texture as the original material (yup, we have a large store of 100+ year old woods here). 

OLD hardware and nails/screws where possible.
hide glue, especially on all chairs and veneer work.
Hand tools for most jobs, and a very judicious use of sanders and other modern tools.
analine dyes and stains for most colour corrections.
disinfectant wash of alcohol with shellac base so your antiques are clean and fresh.
shellac base to start (we import our own shellac, and only use the finest quality).
French polish finish and/or wax (we mix our own waxes here, a special blend of Montana and beeswax  and turpentine, slow cooked and stored before use.
Urethane and Varnish finishes only when applicable to large surfaces such as tables.
With our approach to restoration our work is not only perfect, but also very GREEN (with 90% of our materials from reclamation).

We apply all of the above with the best of our Europen based training having resotred items from the late 1500 thru to retro-moderne.

To book a time to discuss your needs simply call  Vince: 519-623-4050